Source: Susan Avery, My Purchasing Center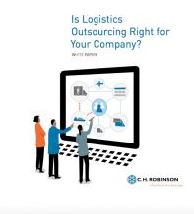 From reporting on the procurement and supply profession for more than 25 years, I know that the word "outsourcing" used to have scary connotations for some. But, as the procurement function transforms into a strategic value-add for manufacturing and other companies, supply pros have come to understand that they now play key roles in managing these critical relationships with outsourcing companies.
How do you know if outsourcing is right for your company?
Let's take a look at one category, logistics. (More of you are responsible for managing the logistics spend at your company than metals, energy and travel. That's according to the most recent My Purchasing Center Profile of the Procurement Professional.)
C.H. Robinson is a third-party logistics provider that helps companies simplify their global supply chains, and now My Purchasing Center readers figure out if they should outsource logistics in a new white paper, Is Logistics Outsourcing Right for Your Company?
The white paper "can help companies decide, set reasonable expectations for what outsourcing can contribute to an organization, and how much of a role the company will need to play to achieve the successful business outcomes they seek."
Acknowledging that "while every enterprise has unique needs and different internal staff strengths in logistics management, the white paper describes several common factors that can lead companies to consider outsourcing." These are:
Desire for more hard and soft cost savings.
Logistics is core to brand reputation, but there is insufficient technology and/or resources to gain a competitive advantage.
Need for an agile, scalable supply chain solution that can accommodate rapid growth through merger or acquisition, new products, or new markets.
Adding headcount isn't an option, or finding the right talent is proving challenging.
Need best-in-class technology, but can't afford a significant capital outlay.
There's more. The white paper helps readers configure a logistics outsource solution that drives outcomes for your business. It also covers misperceptions about the realities of outsourcing, and offers additional resources on logistics outsourcing.
To read the white paper, Is Logistics Outsourcing Right for Your Company?, download it now at My Purchasing Center.
– See more at: http://www.mypurchasingcenter.com/logistics/blogs/outsource-logistics-its-tough-decision/#sthash.HEN5ziSf.dpuf