Riproponiamo in forma integrale sulla piattaforma – The Procurement –  l'articolo dal titolo : " The Objective Management " realizzato da Chris Lumby e Paolo Zaza già presente sul primo numero della rivista ove per ragioni di spazio, alcune parti erano state sacrificate. Il formato cartaceo non presentava due tabelle e alcune interessanti riflessioni. In questo modo vogliamo farvi ripercorrere integralmente il loro pensiero sul tema.

In a company the overall flow of value from supplier and customer can be conceptualized in eight core processes and one alignment process (Fig. 1).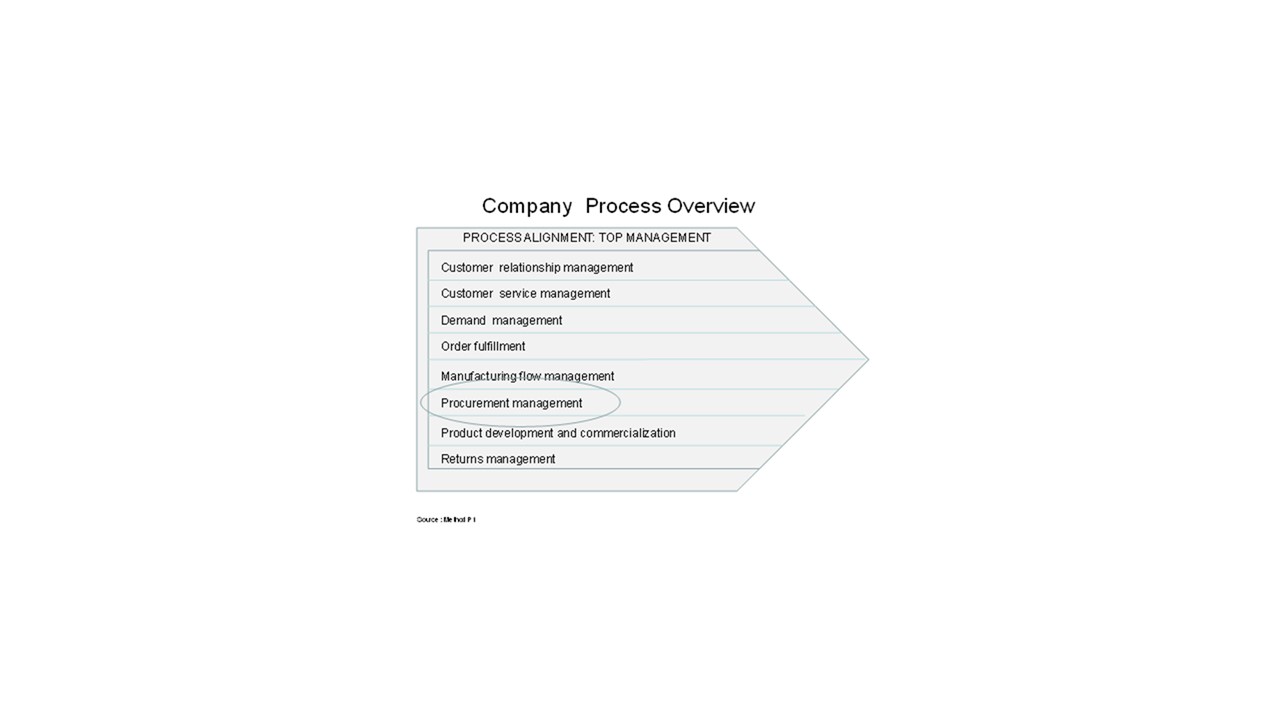 Fig.1
Customer relationship management (CRM) is concerned with learning about customer's needs and behaviors and the integration of sales, marketing and service strategies.
Customer Service Management (CSM) is concerned with providing customers with high quality goods and services, at the lowest cost, with the shortest waiting times and maximum responsiveness and flexibility to their needs.
Demand Management (DM) is concerned with balancing the requirements of internal and external customer with supply chain capabilities. It includes forecasting demand, synchronizing supply and demand, increasing flexibility, reducing the variability of demand by means of standardization and the control of inventory.
Order fulfillment (OF) is concerned with the fulfillment of customers' orders efficiently, effectively and at minimum total cost.
Manufacturing flow management (MFM) is concerned with all the process and activities required to transform inputs and a variety of resources into final goods and services.
Procurement management (PM) is concerned with how an enterprise interacts with supplier, partners and internal customers to source its products and services.
Products and Services development and commercialization (PD&C) is concerned with all the processes and activities involved in the development and marketing of new or existing products or services.
Returns management (RM) is concerned with the activities related to reverse logistics. It has extended the supply chain to beyond the end consumer and includes cooperation with local authority for recycling and disposal.
Process alignment (PA) is concerned with how processes interact to maximize the value for the company and is concerned with the transformation of the other processes.
The Procurement Management process can be subdivided into 5 sub-processes (Fig. 2).
The first of this Process is Functional management  and is related  to:
Objective management: Understanding of company priorities and allocates their resources to achieve better efficiency. Review performances.
Interfunctional alignment: Align with other functions to give professional suggestion and provide direction to others within their specific area of expertise
Transformation Management: Tracking processes and identify and address the inefficiency. Establish standards and best practices in terms of structural levers. Provide necessary tools.
Sustainability Management: embracing responsibility for corporate actions and to encourage a positive impact on the environment and stakeholders including consumers, employees, investors, communities, and others.
Talent Management: training and career development to improve performance of individuals and teams.
In particular the 'Objective Management' it is a phase of defining goals within an organization so that management and employees agree to the targets and understand what they need to do in the organization in order to achieve them.
The Scope of this phase is:
To formalize the high level objective
To identify first opportunities
To prepare next phases
The Key Success Factors of this phase are:
Make it a team objective and not an individual objective
Objectives are endorsed by the sponsor(s)
Alternative options have been considered
The Pitfalls of this phase are:
Underestimate the reluctance to change and hidden agendas
No or poor formalization
To facilitate the 'Objective Management' can be a useful a tool called Pathfinder (Fig.3):
This tool asks a series of questions that the CPO should answer before to discuss his goals with top management in order  to be proactive and to agree targets that go beyond the savings.
Market Trend check list
Any major change regarding key market players?

Any company consolidation?
Any big player bankruptcy?
Any new player from emerging countries?

Any change in the cost model or value chain?

New technologies
New alternatives
New subcomponents
Large change in material price

Is the market cost structure impacted by raw material, labour cost or technology?
Is the Market global, regional or local (country)?
Internal Situation check list
What is the level of management of needs (local, regional, global)?
What is the level of certainty of specification?

Complex specifications?
Changing needs?

Does the category have a high impact on total cost of product?
Does the category have a high impact on the indirect spend ?
Does the category have an impact on the end customer perception?
Current Practices check list:
Has the company already been through a formalized cross functional strategic sourcing process?
Do stakeholders trust procurement members in their capabilities to support business?
What is the level of use of strategic levers against benchmarks?
What are the key examples of the use of the levers?
Is the category classification the result of industrial classification?
Has the classification been reviewed in the last 3 years?
What is the current level of practices in terms of supplier mgt?
Key Suppliers check list:
Who are the key suppliers per macro segment?
Did the list of key suppliers per macro segment change during those past 3 years?
What are the other activities key suppliers can provide in addition to product and services bought from the company?
Who are the key competitors on which to benchmark?
For each macro segment are there competing suppliers which are normally in a completely different market?
Are key suppliers common across categories?
From a company strategy and the result of the Path finder tool the CPO can derives the procurement function's strategy (Fig.4).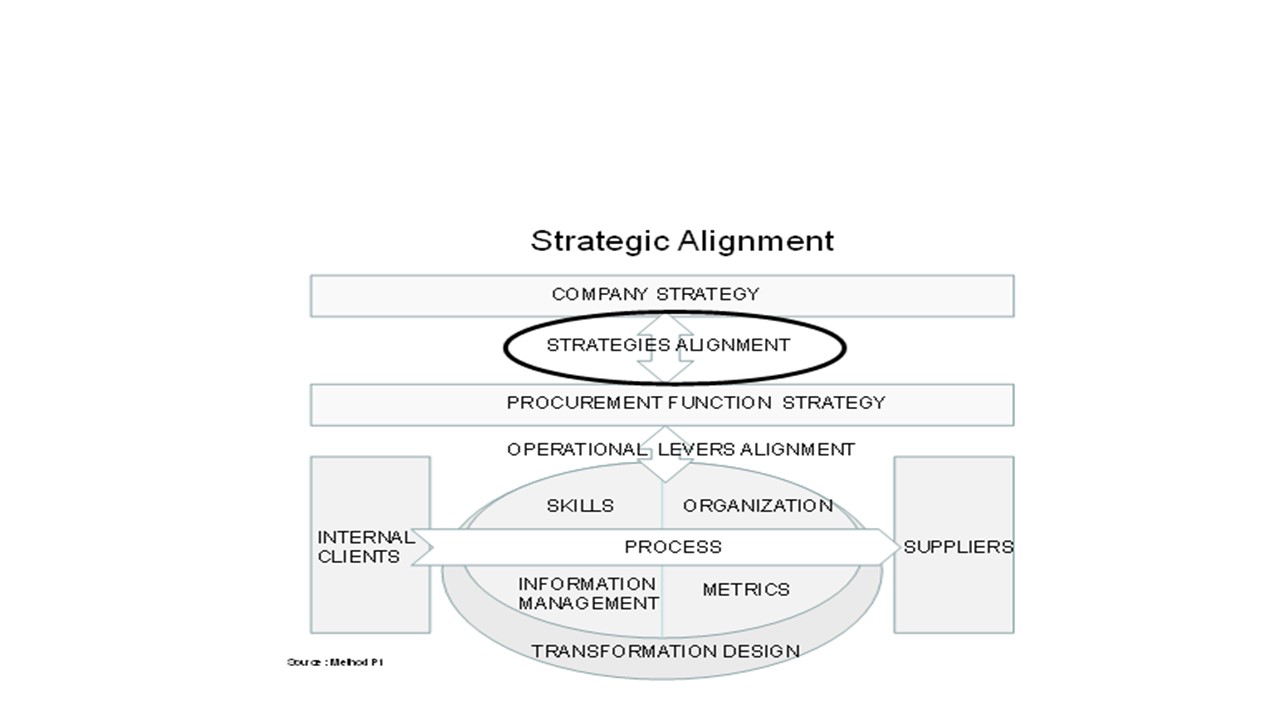 Fig.4
Some examples of the Procurement function's strategies are:
If the company is aiming to increase market share, the Procurement function should provide the quantity and quality of supply at a Total Cost of Ownership (TCO) as required by the market positioning objectives.
If the company objective is to move out of specialty markets and enter volume markets, the Procurement objective is to develop new larger suppliers and material flow systems more geared to larger volumes.
If the company objective is to generate positive cash flow, the Procurement function will contribute by means of lowering the average inventory and longer payment terms.
If the objective is to design new products to develop new business, the contribution of Procurement will be to develop appropriate suppliers.
If the objective is to increase the capacity – balancing make or buy policies, the Procurement function will develop systems that integrate capacity planning with strategic vendors.
Chris e Paolo cooperate in international projects of consultancy and skills development. The activity is based on Method P # 1, a methodology that organizes Supply Management  activities in five processes and twenty-five phases (Fig.2).
A set of tools have been developed for each phase  to increase efficiency.
Chris Lumby has worked as Director Of Operations at ATN Training & Consultancy, Managing Director at Thompson Lumby Consulting Ltd, Global Lead Category Manager at Carillion and Head of Procurement at Allied Bakeries. He brings more than 10 years management experience in purchasing in large multinational organizations across different industries.
Paolo Zaza has worked for several consulting firms and brings more than 20 years management experience in marketing, sales, business development and purchasing in large multinational organizations across different industries.