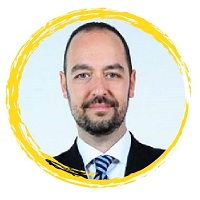 Head of Procurement & Credit Management di TeamSystem
Classe 1973, Laureato in Economia alla Bocconi ed MBA al MIP – Politecnico di Milano.
Ha un'esperienza ventennale nelle Telecomunicazioni Mobili dove ha lavorato dal 2001 al 2018 prima in Vodafone, poi in '3' e infine Windtre, ricoprendo ruoli e responsabilità crescenti in differenti aree aziendali Marketing, Sales, Operations e Finance.
In '3' è Direttore Sviluppo prodotti e Servizi dal 2005 al 2009, poi Direttore Supply Chain, Credit Management and Fraud Prevention fino al 2016.
Nel 2016 partecipa attivamente al progetto di fusione tra Wind e Tre, ed è a capo della Direzione Supply Chain della nuova WindTre.
Da maggio del 2018 in TeamSystem (Market Leader nella fatturazione elettronica e nei sistemi software gestionali per Aziende e Professionisti) con il ruolo di Direttore Procurement and Credit Management. 
Titolo intervento al Procurement & Innovation Congress: L'importanza di un approccio integrato 'Cliente – Fornitore'